News provided:
‍
April 26, 2023, 10:36 AM EDT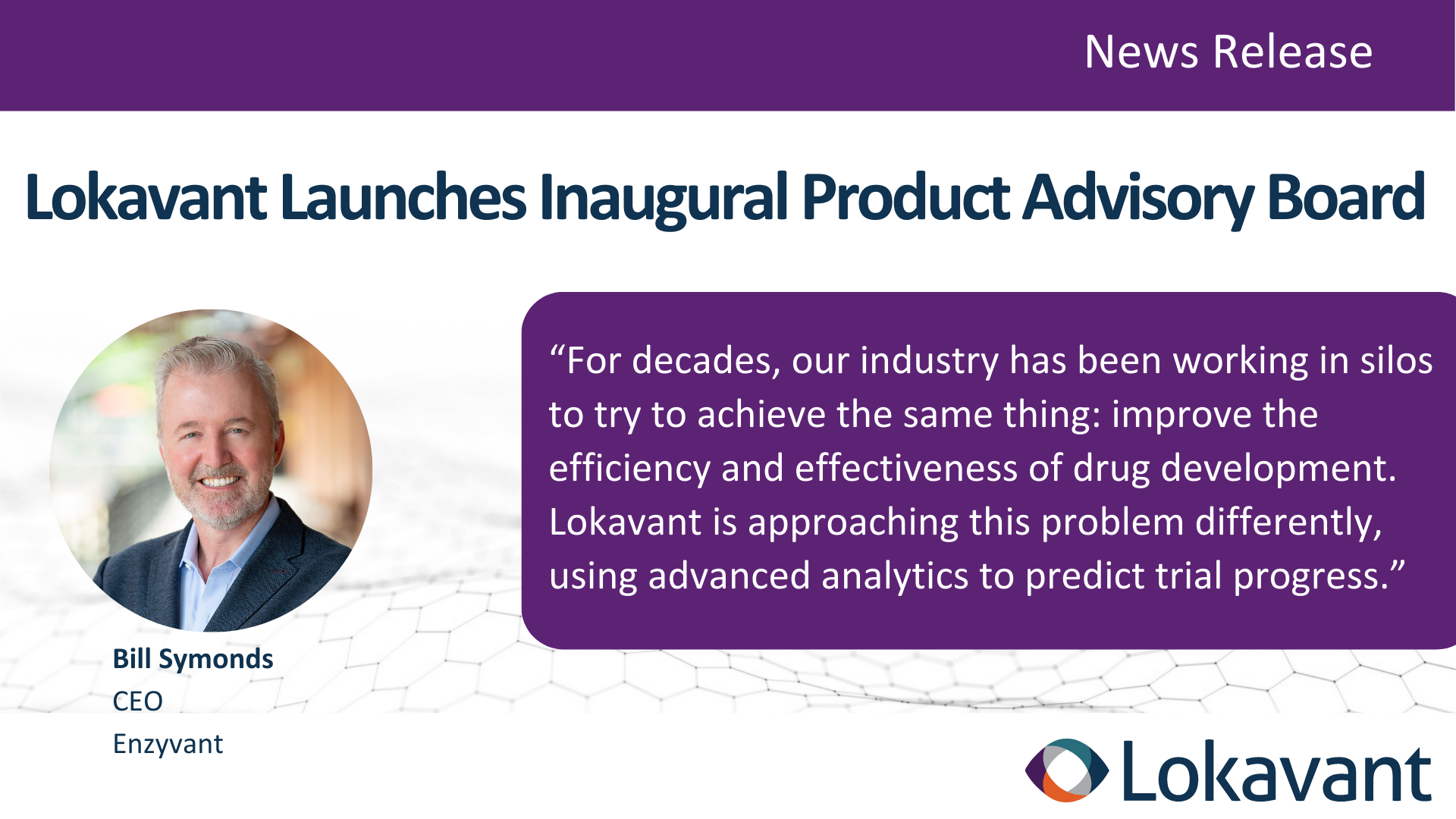 NEW YORK – April 26, 2023 – Lokavant, the clinical trial intelligence platform company, today announced its Product Advisory Board. This esteemed group of industry leaders will help drive the strategic direction of Lokavant's Clinical Intelligence Platform as the company expands its product portfolio and accelerates growth.
The Lokavant Product Advisory Board brings together accomplished leaders in pharmaceutical research and development who are experts in global clinical trials and related operations. They work closely with the Lokavant leadership team, providing valuable insights into industry trends and drivers for the evolving data and analytics needs of sponsors.
Lokavant's product advisory board includes the following industry veterans:
Marie Rosenfeld, Senior Vice President, Head of Clinical Operations, Astellas
Mark Weinberg, Founder, Weinberg Consulting
Greer Chambers, Director, Clinical Operations, Moderna
Angela Radcliffe, Head of Digital Performance Improvement & Innovation, Research IT, Bristol Myers Squibb
Marcella Rogers, Senior Vice President, Head Of Operations And Portfolio Management, Sumitomo Pharma
Bill Symonds, Chief Executive Officer, Enzyvant
"For decades, our industry has been working in silos to try to achieve the same thing: improve the efficiency and effectiveness of drug development," said Bill Symonds, CEO at Enzyvant. "Lokavant is approaching this problem differently, using advanced analytics to predict trial progress. It's exciting to see industry experts collaborate on Lokavant's innovation and experience the progress we can make together."
The formation of the Lokavant Product Advisory Board marks a significant step forward in the company's commitment to innovation and growth after its emergence from Roivant Sciences. Lokavant's advisory board meets regularly to share feedback on the clinical research market landscape, customer needs, product capabilities, and Lokavant's strategic platform roadmap.
"Continuous customer feedback is critical as Lokavant shapes the future of clinical trial intelligence," said Rohit Nambisan, CEO and co-founder of Lokavant. "Our Product Advisory Board's expertise and insights will be invaluable as we drive greater predictability in clinical trial performance, generating value for all stakeholders in clinical research."
Originally published on Business Wire
About Lokavant
‍Lokavant provides clinical trial teams with an intelligence platform that improves the time, cost, and quality of trial planning and execution through data-driven analytics solutions. Lokavant's platform aggregates and integrates real-time data from disparate trial data sources, and powers advanced analytics enabled by its compendium of proprietary trial data. The suite of applications built on the platform allows study teams to proactively manage their studies and surface insights, driving efficiencies in all scientific and operational use cases. Email contact@lokavant.com to learn more or visit www.lokavant.com.