News provided:
‍
April 4, 2023, 8:20 AM EDT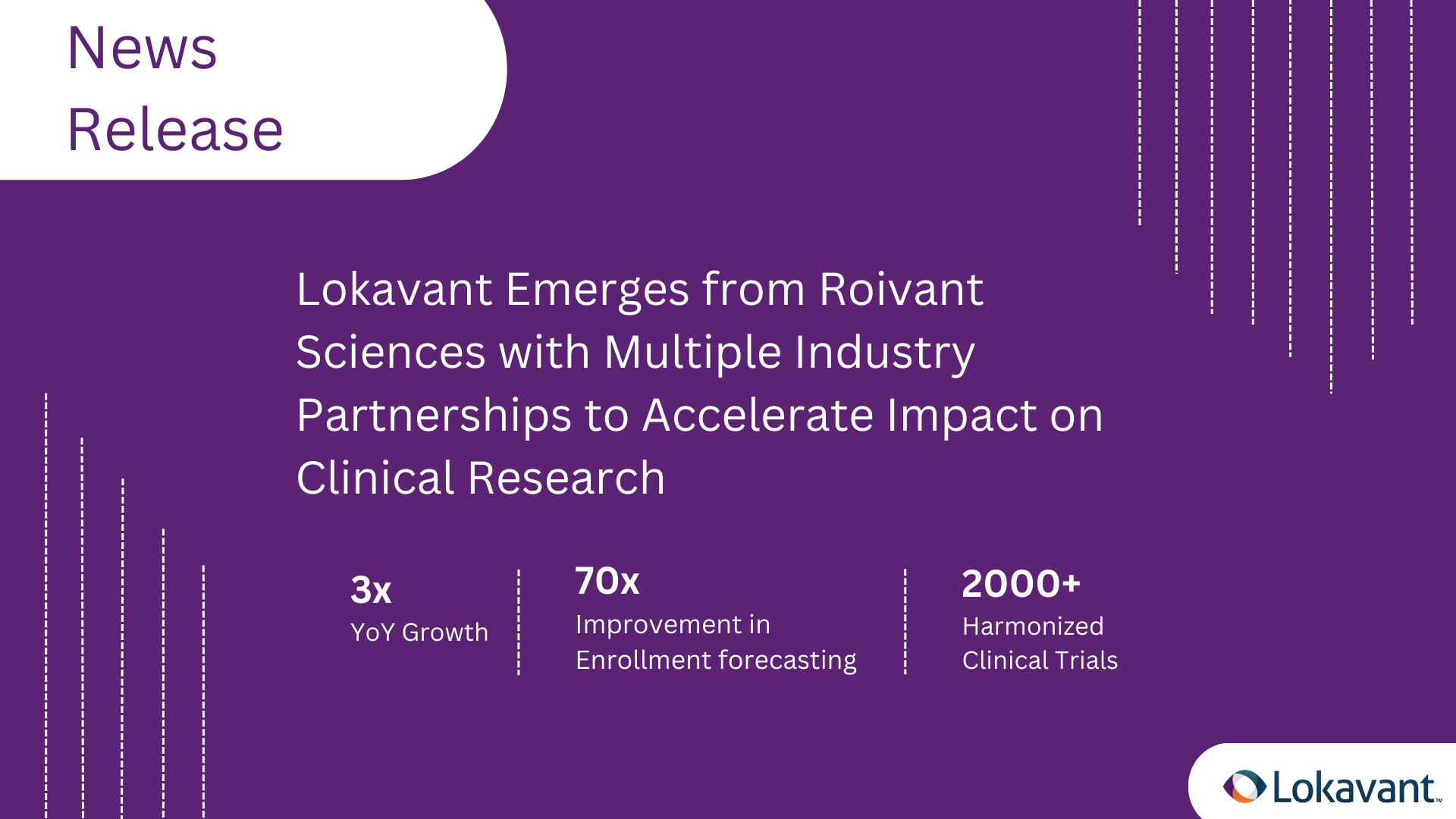 NEW YORK – April 4, 2023

– Lokavant, the clinical trial intelligence platform company, has achieved significant business milestones within three months of the company's $21 million Series A funding announcement, including new customer growth and leadership hires. The venture has also formally launched from parent company Roivant Sciences (Nasdaq: ROIV), which develops transformative medicines and technologies by building subsidiary companies called "Vants." As one of Roivant's most promising health technology startups, Lokavant was incubated in 2020 with the mission to make clinical trials smarter and prevent avoidable operational issues, accelerating drug development.

Through incubation within Roivant Health, Lokavant identified a broader market opportunity to solve a longstanding problem in clinical trials for sponsors and CRO partners. In 2020, the company entered its first multi-year enterprise license agreement with Top-10 CRO Parexel. "The ability to continuously innovate is central to clinical development," said Peyton Howell, Parexel Chief Operating & Growth Officer. "Through our collaboration with Lokavant, Parexel is able to leverage the latest technology to manage the complexities of clinical trials, improve clinical trial execution, and accelerate the delivery of new therapies to patients."

The number of data sources involved in clinical trials is staggering. According to Tufts CSDD, clinical trial teams use at least six different sources in a single trial and produce upwards of 3.6 million data points, increasing the operational complexity of each trial. Lokavant's platform unifies data in real-time across all trial functions to power a machine-learning engine that anticipates clinical trial events and their impact on trial execution. The platform delivers deep analytical insights, clear data visualizations and immediate alerts to sponsors and contract research organizations (CROs) to enable decisive action and prevent trial derailment.

"Trials generate exponentially more data from twice as many sources than just a few years ago, but our tools have not matured to manage them," said Craig Lipset, founder of Clinical Innovation Partners and member of Lokavant's advisory board. "This costs the industry in resources and time, but more importantly impacts patients who are waiting for breakthroughs for their unmet medical needs. Now is the time for sponsors and CROs to fully leverage advanced analytics to detect quality issues earlier and improve trial performance."

With successful deployment across a large number of trials, Lokavant is now branching out and positioned for rapid growth, recently achieving the following milestones:




Customer Growth

– Lokavant has increased its customer base of sponsors and CROs by 3x year over year since its founding. "As a CRO, we don't usually have access to all of the trial data to see a complete picture, but Lokavant empowers our team with a real-time view of the data," explained Shuji Ozawa, head of the clinical operation promotion division at CMIC Group Co., Ltd, Japan's largest CRO. "This is a big advantage for our customers, helping us pivot quickly to meet study timelines."



Product Development

– Leveraging a proprietary data asset of over 2,000 trials, Lokavant's platform and analytical applications increase the accuracy and efficiency of trial planning and execution. It provides a single source of truth for all trial teams and delivers real-time, predictive analytics, resulting in a 70x improvement in enrollment forecast accuracy, over $1 million in cost savings from patient retention, and six months' time savings from detecting site noncompliance issues, on a per trial basis.



Strategic New Hires

– Lokavant has 53% year-over-year employee growth, most recently hiring Andrew (AJ) Mills as executive vice president of sales; Doug Weatherhead as vice president of marketing; and, Meredith Dees as vice president of product.



Series A Funding

– Lokavant raised $21 million in December 2022, led by Edison Partners. This funding round was concluded on the back of triple-digit growth in 2022, as pharmaceutical companies and their CRO partners seek novel ways of expediting successful therapeutics development in a challenging economic environment.

"Incubated and battle-tested within a large tech-enabled biopharmaceutical company, we learned from and iteratively addressed the challenges of planning and executing specialized global clinical trials," said Lokavant CEO and co-founder, Rohit Nambisan. "Our intelligence platform is proven, built on a trusted and growing proprietary database of clinical research data from more than 2,000 trials. Smarter trials are how we will transform global drug development and expedite the delivery of therapies to patients.

Originally published on Business Wire

Shared by our Partners at:




About Lokavant
‍Lokavant provides clinical trial teams with an intelligence platform that improves the time, cost, and quality of trial planning and execution through data-driven analytics applications. Lokavant's platform aggregates and integrates real-time data from disparate trial data sources, and powers advanced analytics enabled by its compendium of proprietary trial data. The suite of applications built on the platform allows study teams to proactively manage their studies and surface insights, driving efficiencies in all scientific and operational use cases. Email contact@lokavant.com to learn more or visit www.lokavant.com.