News provided:
‍
June 21, 2023, 4:29 PM EDT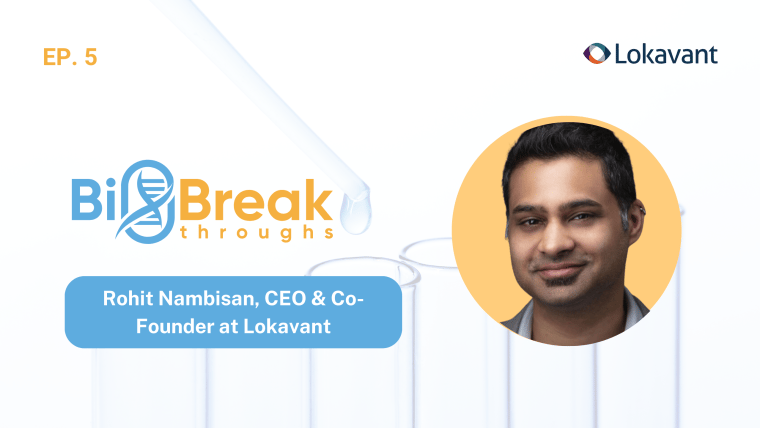 Lokavant CEO Rohit Nambisan recently joined Jared Taylor, host of BioBreakthrough, for an enlightening conversation about the unique challenges and exciting opportunities in the field of clinical trial data management. In this conversation, Rohit, the co-founder of Lokavant, sheds light on his background, gives an overview of Lokavant, explains the most significant data challenges in clinical trials today, and shares his vision for the future.
Rohit's Journey and the Genesis of Lokavant
Rohit started the conversation with a walk down memory lane, reminiscing about his journey, shaped by his stints at McKinsey, where he worked with many healthcare clients, and at Roivant Sciences. During these experiences, he recognized the magnitude of data challenges in clinical trials, eventually leading to the establishment of Lokavant.
Addressing the Data Challenges in Clinical Trials
Rohit pointed out that late-phase trials now generate three times more data than they did ten years ago, resulting in an unprecedented data influx. He emphasized that while the data increase presents a tremendous opportunity to refine clinical trials, it simultaneously poses challenges due to the limitations of legacy systems and processes.
Lokavant's Differentiating Approach
Unlike traditional eClinical solutions, which often insist on using their source system for analysis, Lokavant allows the flexibility of selecting systems based on the particular needs of each study. Rohit highlighted that Lokavant's agnostic approach provides a competitive edge by bringing together the best information from diverse sources, including third-party, publicly available, commercially licensed, and customer data.
Mapping the Future with Data
With a passion that was palpable even through the podcast, Rohit shared that Lokavant is now setting its sights on moving upstream into study planning and the feasibility space. As part of this initiative, Lokavant plans to leverage real-world data to enhance feasibility and study planning in this increasingly complex environment. He also mentioned that he will co-present with a real-world data company, PurpleLab, at the upcoming Drug Information Association (DIA) conference.
Personal Insights
Adding a touch of personal insights to the conversation, Rohit revealed that one of his favorite movies is the cult classic, "Harold and Maude," from the mid-1960s. He explained his choice by saying the movie was "an off-kilter movie for the time, way ahead of its time." Moreover, being a professional musician in his spare time, he enjoys good movies with good soundtracks.
The conversation with Rohit offers a glimpse into the innovative solutions that Lokavant is bringing to the field of clinical trials. The episode serves as a testament to the power of data and the exciting possibilities it brings to healthcare.