Published on:

July 15, 2022, 1:00 AM EDT


In our previous MythBusters blog post, we discussed numerous factors that can help predict enrollment success in a trial such as the phase, indication and geographic location; but is there also a correlation between a site's activation time and its enrollment success? According to a common industry assumption, sites that activate and screen more quickly will enroll more participants. Using a subset of Lokavant's deep proprietary data compendium, we sought to investigate the validity of this myth.
‍
Lokavant's Data Science and Analytics experts performed an analysis on sites that completed enrollment in Phase II-III studies since 2011. They further used a proprietary anomaly detection methodology to identify the data of interest, which excluded any outliers, resulting in a subset of approximately 4,400 sites. According to their findings, sites that reached activation faster and screened earlier, enrolled more participants.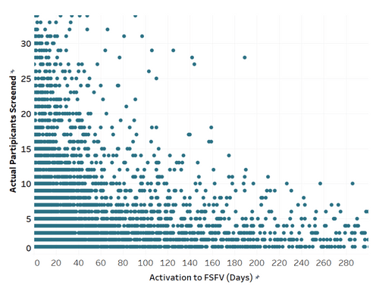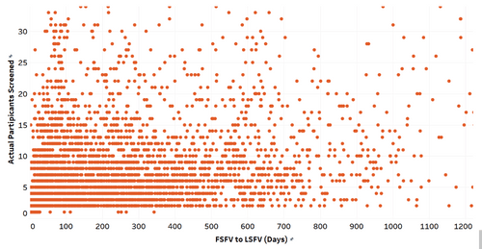 With site activation costing sponsors anywhere between $20,000 to $50,000 per site123, there is a crucial need for targeted identification of highly performant sites and more efficient processes in activating those sites. But once activated, what is a reasonable amount of time for a sponsor to expect the first participant's first visit at a site?

According to the charts above, there is a strong relationship between enrollment and how quickly a site screens its first participant after activation; however not between enrollment and a site's actual enrollment period. Surprisingly, the amount of time a site takes to screen a participant after activation is a stronger predictor of enrollment than how long it has to enroll. Some may argue that sites conducting studies with a longer enrollment period will be able to enroll more participants, but according to our analysis this is not the case.
There is no correlation between better enrollment and longer enrollment timelines, however there is a clear connection to the site activation to the first participant screened timeline. There are numerous factors that could lead to a site screening more quickly than another, including but not limited to; more experience, better understanding of the protocol, proactive prescreening activities, no competing studies, and resources, such as dedicated site staff. Regardless of the reasons, it is evident that sponsors should select sites based heavily on a site's ability to startup and screen quickly.
‍
The cost to maintain a site is approximately $1,500 to $2,000 per day12, so having a better understanding of when a site should be closed will help drive down the sponsors' cost and save their study teams time. "Patient recruitment is the area where most of the delays in clinical trials occurs and it is estimated that up to 30% of the clinical product development lifecycle resides in that space," 2 says Otis Johnson, Executive Director, Clinical Informatics & Feasibility at iCTRS.
‍
So, how can a sponsor avoid these costly delays? Through a better understanding of their operational data. Lokavant's Intelligence platform provides sponsors with actionable insights during an active study, as well as when planning future studies. This level of transparency will lead to faster enrollment, decreased costs, and speedier outcomes which will all ultimately lead to drugs in the hands of patients faster.

Stay tuned for the next MythBuster and let us know of any myths you'd like to see "busted" next!

1. PharmaExec
2. Clinical Leader
3. NCBI
‍